Msc, student psychologist in University of Applied Sciences in Leiden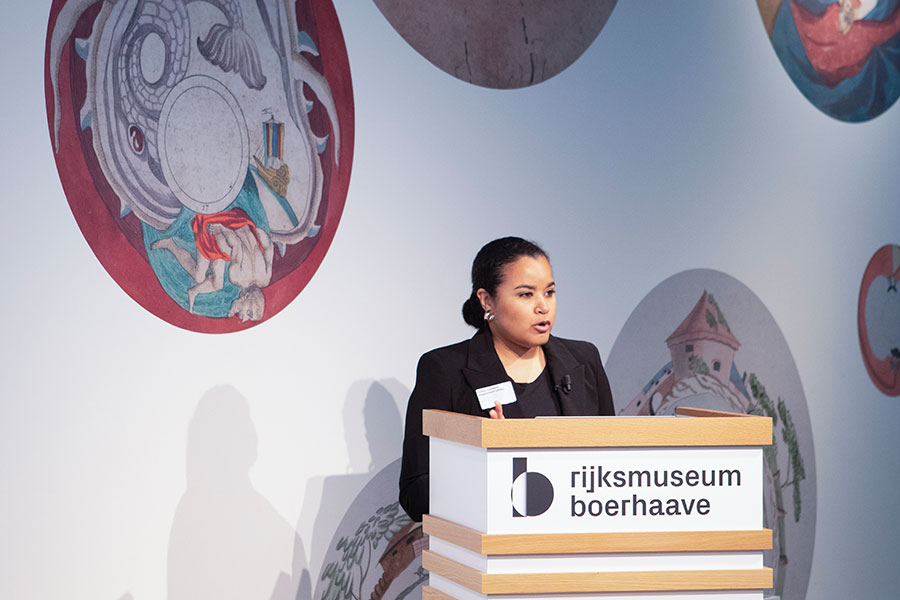 Abstract
Suicide Prevention at the University of Applied Sciences in Leiden.
Leiden University of Applied Sciences is actively committed to the welfare of its students. The student deanery has noticed that psychological complaints among students have increased in recent years. Because of this rise of psychological problems among students, three student psychologists have been installed at the student deanery since 2020.
These student psychologists at Leiden University of Applied Sciences have the task of bringing about a positive effect on the study behavior of students with mild psychological problems. They do this by training teachers and student counsellors in early detection of such problems, but also by providing training courses for groups of students and by offering short-term individual treatment aimed at reducing the negative impact of psychological symptoms on study behavior. However, occasionally they meet students with more severe psychological complaints who also express (serious) suicidal ideations or behavior.
The Commissie Actuele Nederlandse Suïcideregistratie (CANS) (Commission of Actual Dutch Suicide registrations) analyses the most recent suicide rates each month. The CANS recently reported that in the twelve months of 2021 suicide in young people up to 30 years has increased with 15% compared to the average in the years before.
Indeed, also many teachers and student counsellors of Leiden University of Applied Sciences are increasingly confronted with students who contemplate suicide. Sometimes they are also confronted with someone who made an attempt or even died by suicide. This can be an intense experience, since it involves the life of a person. What can student psychologists of the school do to train our colleagues and support young people by showing them a way to help? What role do teachers have? How do they signal problems? Where does their responsibility stop? We as student psychologists decided to develop a suicide protocol in the event of impending suicide.
This suicide protocol can help our colleagues to identify suicidal students, to assess the risk of suicide, to draw up a safety plan and finally to refer the student to professional help. The suicide protocol leans on the ''4 eyes principle''. One should always consult a colleague in case of suicidal expressions by a student.
In addition to this suicide protocol, the student psychologists also provide master classes for teachers and student counsellors on the topics of depression and suicide. This is done in cooperation with the Dutch online suicide prevention helpline 113. The master class focuses on what one can do to provide the best possible care during a suicide risk.
Leiden University of Applied Sciences is therefore committed to prevent suicide by means of the suicide protocol, education, but also by means of intervision and a regular update of the suicide protocol. New research and insights are consulted and Leiden University of Applied Sciences is committed to work together with various partners outside Leiden University of Applied Sciences who want to prevent suicide.
Biography
Nadia Lubbers has been working as a student psychologist at Hogeschool Leiden, since September 2021. Before working as a student psychologist at Hogeschool Leiden, Nadia worked 8 years as a psychologist for Parnassia Groep, the largest mental health facility in the Netherlands. She provided specialized treatment for adults concerning depression, anxiety, ADHD, personality disorders and psychotrauma. Alongside the regular department she also worked at departments for intercultural psychiatry, she provided care for immigrants, refugees and expats. Born in Kenya to a Dutch father and a Cameroonian mother and growing up in the very multicultural city of Amsterdam she has a lot of affinity and understanding of the patients at the intercultural facility. Nadia also volunteered at 113, the Dutch online suicide prevention hotline, she worked there during the establishment of 113. Nadia obtained her master's degree in Clinical Psychology at de Vrije Universiteit Amsterdam in 2012. During her studies she did an internship at first aid psychiatric clinic Mentrum in the city center of Amsterdam providing care at patients with severe mental health problems from which some had undergone suicide attempts. In her free time Nadia likes to do relaxing activities to balance her work life, which at times can be very intense. She is interested in reading about history, traveling and learning from different cultures and holistic approaches to mental- and physicial health : such as acupuncture, cupping therapy and the Japanese shiatsu massage.