Professor of French Studies at University of Leeds, United Kingdom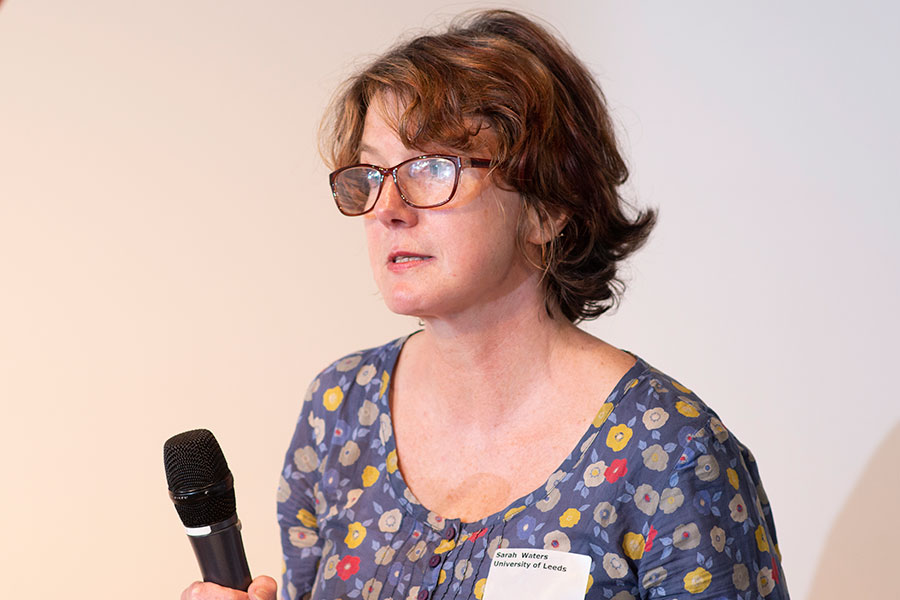 Biography
Sarah Waters' research focuses on the phenomenon of work-related suicide in the UK, France and internationally. She carried out a two-year study of work-related suicides in France, involving an analysis of suicide letters linked to 66 suicide cases across three large French companies during the period from 2005 to 2015. This research, funded by a Wellcome Trust Seed Award and an Arts and Humanities Research Council Fellowship, was published as a book by Liverpool University Press in 2020 (Suicide Voices. Labour Trauma in France).
Her most recent project, funded by Research England involves an in-depth qualitative study of 12 recent cases of work-related suicide in the UK and culminated in a report sent to the Health and Safety Executive and other public agencies (Waters & Palmer, 2021).
Alongside her research, she is a campaigner within the Hazards trade union group and lobbies for work-related suicides to be recorded, regulated and prevented in the UK https://www.hazards.org/suicide/suicidenote.htm. She is a member of P1 Investment Management Ethical Oversight Committee where she provides briefings on labour issues including zero-hour contracts, modern slavery, supply chains: https://p1-im.co.uk/ethical-investment/ethical-oversight-committee/
She contributes regularly to the media and has published in Times Higher Education, The Conversation, Truthout, Jacobin, Hazards Magazine and Counterfire and has contributed to radio progammes in Europe and the United States. Her research has featured in BBC World News, Libération, Proletären and Arbetsliv.
Relevant publications
Suicide and Self-Harm. New Research Developments' special issue of Journal of Public Mental Health (forthcoming 2022). Co-edited with Julian Ashton
'Covid 19 and deadly work: The UK and France compared' Hazards (153) January–March 2021
'Suicide Voices. Testimonies of Trauma in the French Workplace' Medical Humanities (Published online 9 September 2016)
'When Work Kills' Journal of Public Mental Health (Co-authors: Prof Martin McKee, Dr Marina Karanikolos). 15 (4) 2016, pp. 229–234. Emerald award for best journal research article in 2016